Buck Bowhall – Tennessee
Safe Baby
Buck and Penny Bowhall, Owners, Safe Baby
Safe Baby has been providing childproofing services since 1996. In a time where convenience is a top priority for most families, parents value a company that will come to your home and babyproof it for you! Since 1996 that is exactly what Safe Baby has been doing – helping parents create a safer home environment for their little ones. Buck and Penny Bowhall, owners of Safe Baby, have babyproofed hundreds of homes in the middle Tennessee and surrounding areas, as well as in Kentucky.
Buck and Penny Bowhall created Safe Baby after their son was injured after a fall at day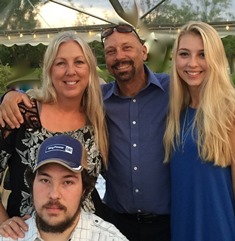 care. The accident made them take a look at child safety with a new urgency. "We are very passionate about helping others create a safer world for their little ones. We look forward to helping you get the best products on the market and creating a safe environment without sacrificing quality. Safe Baby provides custom installations with attention to detail and expertise to help you keep your children safe."
From installing gates on stairways to cabinet and door latches, they also safeguard electrical hazards, install furniture straps, and cover bathroom safety. In addition, they install removable mesh pool fencing.
Safe Baby caters to busy parents who want the expertise of using the right products with a careful professional installation. "Buck the BabyProofer" can help identify safety hazards in your home. His customization and experience will provide satisfaction and peace of mind for your child's safety.