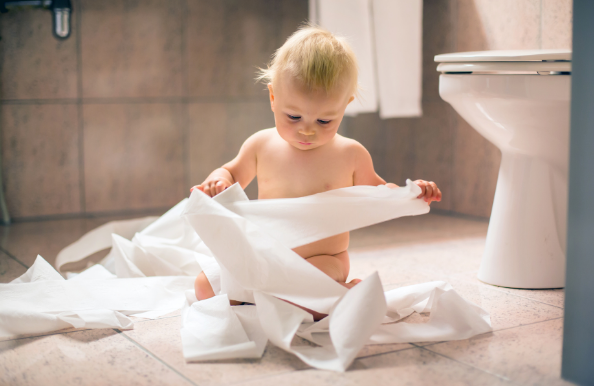 The bathroom can be one of the most dangerous rooms in your home. Check out these childproofing tips to keep your little ones safe.
Use absorbent non-skid rugs in bathrooms to prevent falls.
Add latches to cabinet doors and drawers to prevent access.
Install a toilet lid lock to prevent a curious toddler from drowning. A childproofer can help you find the right lid lock. A toddler could fall head-first into a toilet. Also, toddlers are known for loving water, even toilet water.
Add a shower caddy to store shampoos and other supplies up and away from your baby. 
Store cleaners, medicines, toiletries, mouthwash, nail polish, nail polish remover, and other dangers (e.g., razors) up and away, not under the bathroom sink.
Be cautious of children who might drag chairs, step stools, or climb on toilets to access areas where dangerous items are stored.
Bathrooms doors should be kept closed and latched to prevent access by young children. Ask a childproofer about types to use, especially if there are older siblings who need access.
Almost all bathroom doors have a privacy lock. This should be deactivated, or have the appropriate device or key available to open it from the locked side.
Closets should be kept closed and secured with high locks. Bifold door locks and other speciality door locks are available.
Secure the trash can since it often contain hazards — consider hiding it inside your cabinet behind a latch.
For bathrooms with windows, use cordless blinds. Add window limiters to prevent falls (screens are for bugs, not preventing falls). Limiters prevent the window from opening more than four inches and can be deactivated for emergency exit. Even if you don't usually open windows, bathroom windows tend to be the exception as it is a room that retains much moisture.
If you have sliding shower doors, add a door lock (one of our pros can help you find one). 
Electrical outlets should be protected and appliances unplugged. Use caution when adults use curling irons and hair dryers that can cause burn injuries if left on a counter top after use. Do not plug anything in near the sink, toilet or bathtub.
Buckets of liquid should never be left accessible to children. It is difficult for top-heavy infants to free themselves if they fall into the bucket.
Check to ensure the outlets have ground fault circuit interrupters (GFCIs) which may protect against electrocution if an electrical appliance gets wet. Older homes might not meet current codes so contact an electrician to inspect your home.
Hot tap water scald burns can be prevented by lowering the setting on water heater thermostats to 120 degrees Fahrenheit (49 degrees Celsius) and by installing anti-scald devices in water faucets and shower heads. The actual temperature of baby's bath water should be even lower. The water should feel warm, no higher than 100˚ Fahrenheit (38˚ Celsius). 
Do you have a laundry shoot? Ensure it's secured. Our pros have seen large holes cut into the bottom of cabinets or other types of laundry shoots that are dangerous for young children (they might be located in a hallway).
Check out these poison safety tips for babyproofing the bathroom.
Proud partner of JPMA for Baby Safety Month. #BSM2022