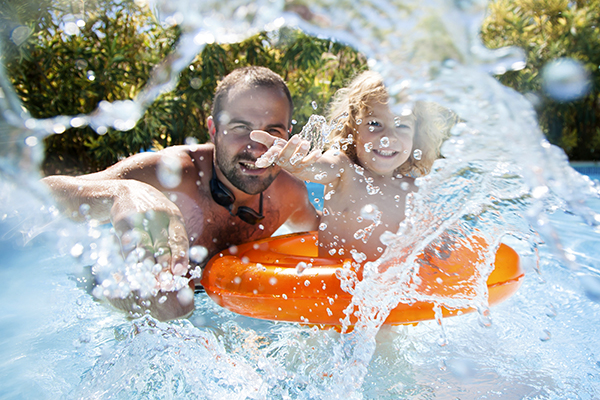 The summer months are a favorite time for most families. It's important to keep pool safety in mind and create layers of protection to keep your family safe. Layers of protection to prevent drowning should include adult supervision, high door locks, alarms, a four-sided pool fence, family safety rules and CPR training.
Designate Water Watchers
Constant adult supervision is always a requirement for pool safety — for any type of pool. Children under five years of age or learning to swim should have an adult in the water at all times. Designate an adult to be a water watcher to ensure someone's eyes are always on the children and the water even if a lifeguard is present. There are often many distractions at pools and drowning is silent, so parental supervision, is very important in keeping children safe around water. Water Watchers can be designated by a lanyard or whistle, changed every 15 minutes and should not be reading or using their phone. The lanyard can be handed off to a new person if the designated one needs a break. Make your own Water Watcher Card!
Layers of Protection: Alarms, Door Locks & More
For an extra layer of protection, higher door latches or exit alarms can be installed on doors and windows in the home leading to the pool keeping little ones from exiting or alerting adults when anyone has exited. A non-climbable pool safety fence should completely surround the pool, be at least four feet tall and include self-closing, self-latching gates with child-resistant latches. Pool nets, covers or pool alarms could add another layer of protection, but are not adequate on their own. Pool covers can allow standing water on top, nets may still allow the child to be submerged in water while on top of it, and alarms may not detect a child slipping into a pool quietly. Even small pools such as wading pools are a hazard. Wading pools should be emptied when you are finished swimming.
Inspect Your Pool and Safety Equipment
Consider having a professional come to your home to inspect your pool and make sure that all safety equipment is installed correctly and the environment is as safe as possible for your family. Pool lights should be inspected to eliminate any risk of electrocution and drain covers should be checked to make sure there is no chance of a child becoming entrapped; older pools may have high voltage too close to the water or dangerous drain covers that can hold a child under water.
Enforce Safety Rules at the Pool
Simple safety rules can also reduce the likelihood of pool-related injuries. Children should be reminded that NO ONE swims alone and to always ask permission to go into the pool area. They should be reminded of water safety tips each time they use the pool. These tips include staying away from all drains and openings, not running around pool areas and staying in the shallow end. Older children should be taught to not dive into the shallow end or near stairs and to practice safe play, which includes not hanging on their siblings or pushing them under water. Teach your children how to swim. Non-swimmers should wear approved life vests and remain within an arm's length of an adult. Swimming aids, floats and other devices are NOT for drowning prevention and should not be used as such.
For additional pool safety resources, please visit www.PoolSafely.gov.
Enjoy the summer!
Article By Robert Lockheimer, Baby Safe Homes