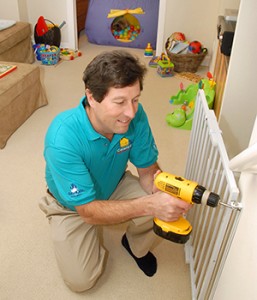 Are you ready to childproof your home and not sure where to start? Parents might not realize there are safety professionals available who work with families and solve babyproofing challenges!
Childproofers and Babyproofers are Educators
Professional childproofers will take the time to show parents how to create a safer environment for their children. First-time parents might not be aware of how quickly a crawling baby can find trouble. An expert can help point out numerous and overlooked hazards in the home.
Bill Brooner from Baby Proofing Montgomery notes that his job always starts with education. "We share a packet of educational materials on baby safety and babyproofing before we conduct an in-home safety evaluation, where we look at the home's unique features to determine the level of child protection needed." After that, he says "we document a room-by-room itemized list of recommended products and the associated material and installation costs."
Experienced Problem Solvers in the Real World
Childproofing experts have experience in dealing with all sorts of hazards in all types of homes and are used to problem-solving. They are able to devise safety solutions for even the most challenging situations. Childproofers specialize in finding gate solutions for stairs and doorways which parents find especially helpful since baby gates usually don't include instructions for real-world installations.
Specialized Safety Products
Another thing to remember is that professional childproofers have access to hundreds of specialized safety products that often can't be found in local hardware or home supply stores. They work closely with manufacturers to develop and enhance child safety products because they want to offer high-quality safety solutions to their clients. Unfortunately, there are many products on the market that lack standards and might not hold up to the tests of your curious toddler. After parents have worked with a childproofing professional to determine what safety products are necessary, they provide professional installation of the products so they function safely and conveniently. They want gates to be easy for parents to use because climbing over a baby gate is not safe for a parent and could provide an incentive for a child to climb.
Cost Effective
Parents are sometimes worried about the expense of hiring a childproofer for their homes. By having an expert choose and install the right products the first time, they are avoiding trial-and-error purchases and actually save money.
Overall, an expert will certainly save time by completing your childproofing quickly and efficiently, leaving parents more time to spend with family.
"We were so glad we hired an expert. Watching him work, I realized how many trips to the hardware store we avoided and I knew it was done right."